DELIVER 2022 Keynote Insight: Why the Fashion Industry Owes a Debt to the Planet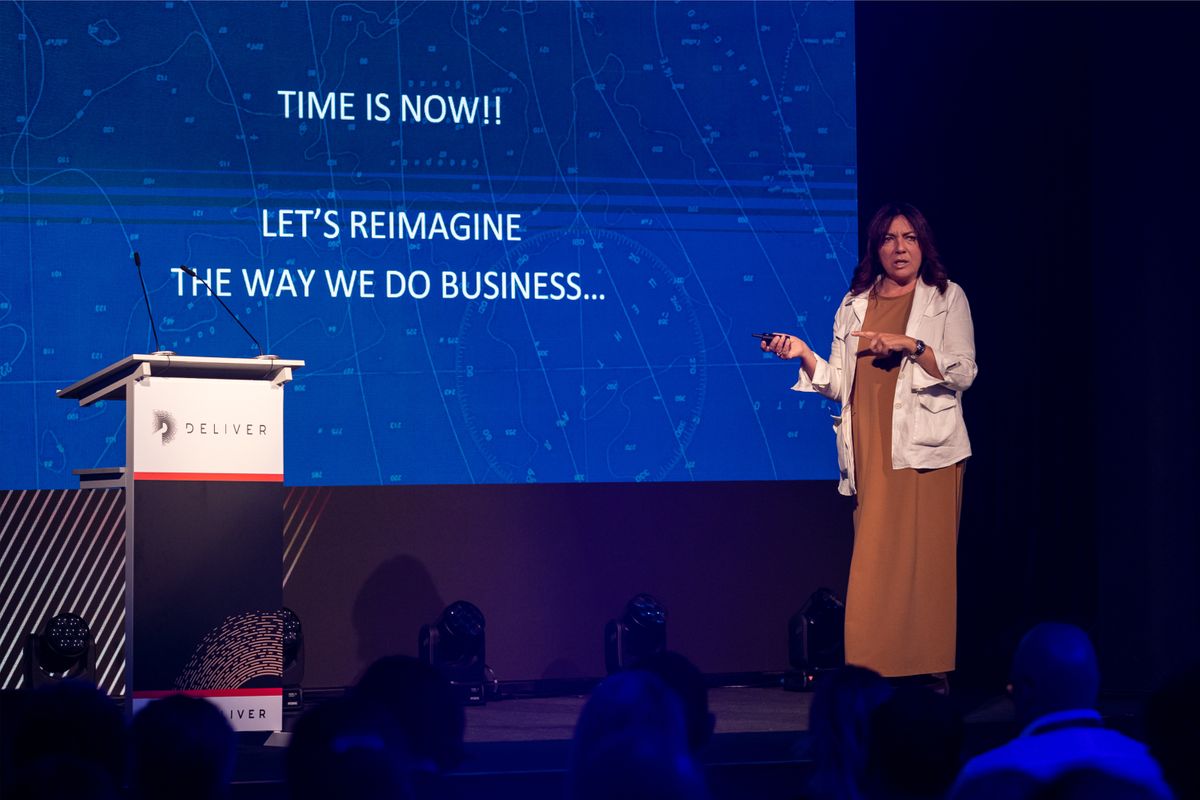 Sustainability, Circularity and the Fashion Industry's Debt to the Planet
DELIVER 2022's keynote speaker programme started with a splash. Marisa Selfa, CEO of North Sails Apparel, made a passionate entreaty to the retail fashion ecosystem to do more to save our oceans, through innovative approaches to sustainability and circularity. The e-commerce and logistics industry's responsibility to the environment is one of the pillar topics for this year's event previewed in our recent Insights Report.
The Fashion Industry: Hero and Villain
"I've been in the fashion business for over 20 years," Selfa began. "It's a very exciting industry, but it's not a very popular one. It's the second most polluting industry in the world." Delivering her keynote, coincidentally, on UN World Oceans Day 2022, Selfa listed the harsh realities of how the fashion industry, responsible for 10% of global carbon emissions, contributes to the degradation of the planet as its second largest consumer, and polluter, of clean water. The statistics are even more troubling when imagined as actual garment consumption: upwards of 80 billion garments are now produced every year, a 400% increase from 20 years ago. The equivalent of one garbage truck of garments is dumped into the environment every minute, with the average person producing 35kg of textile waste annually. The washing of garments is also enormously harmful to the environment, expelling 500,000 tonnes of microfibres into the oceans each year – the equivalent of 50 billion plastic bottles.
Progress, not Perfection
The challenge can feel overwhelming, but Selfa insisted that the industry must not shrink from its responsibility to do more than just aim for sustainability. "Look for progress, not perfection," she said. "Being sustainable is not good enough anymore. That means we're leaving the world in the way we found it - but it's already negative." Quoting from the Global Fashion Agenda, she said that "we must work towards a thriving industry that creates prosperity for all people and communities by working within planetary boundaries, reversing its impact on climate change and protecting biodiversity."
Selfa called on the industry to "reinvent the way we do business, and reimagine how to run our current business models" by encouraging its customers to "buy less, and buy better" in a radical re-evaluation of retail offerings. She cited an alarming example from China of a fashion brand that is now creating 1,000 styles every day – an unsustainable business model that will trigger a further inevitable escalation in fashion waste. Most consumers think they use only 30% of the clothes in their wardrobe, though that number is almost certainly lower, and on average we wear each new item just seven times.
She said that companies must build their own sustainable platforms based on the 17 SDGs (Sustainable Development Goals) recommended by the United Nations in 2015 for implementation by 2030. These include 'responsible consumption and production', 'climate action', and 'life below water', with the latter now a strategic focus of North Sails' 'ocean positive' platform. Selfa explained that the company wants to become "the brand that gives a voice to the ocean and works tirelessly in the pursuit of ocean regeneration and protection". To this end, the company is supporting the Coral Gardeners project, which aims to plant a million corals around the world by 2025, and prevent the global extinction of coral reefs predicted to occur by 2050 unless drastic action is taken.
Greenwishing, Greenwashing
Selfa believes that a company is guilty of 'greenwashing', or exaggerating its positive impact through an unfulfilled green 'wish list' of token promises, until it proactively takes steps to lessen its role in environmental damage and move the industry beyond sustainability towards climate crisis reversal. In our current linear system of production, critiqued by the Ellen MacArthur Foundation, natural resources are removed from the environment, made into products, consumed and wasted. The foundation proposes a circular economy model of consumption, whereby products are recycled back into the early design phase and then re-used. In order for this model to be achievable, the foundation recommends four implementation steps:
Phase out substances of concern;

Increase clothing utilisation;

Radically improve recycling methods, with the introduction of aerobic digestion and composting; and

Make effective use of resources and move to renewable inputs.
"Yes, it's complex and yes, it's expensive sometimes. I always say sustainability is inconvenient," Selfa said. "It has to force us to look at business in a different way."
The stakes couldn't be higher. Quoting the inspirational oceanographer and diver Sylvia Earle, dubbed the 'Queen of the Deep' for her pioneering work on marine ecosystems, she reminded us that "technology is now giving us all the power to know, demand change, and stop treating our oceans as a free grocery store and garbage dump."
We must take a deep breath - reminding ourselves that every second breath depends on oxygen produced by the ocean - and dive in, by committing to meaningful action.
"Act as if what you are doing makes a difference," Selfa said. "Because it does."