DELIVER 2022 Keynote Insight: Why the US Market is Failing at Returns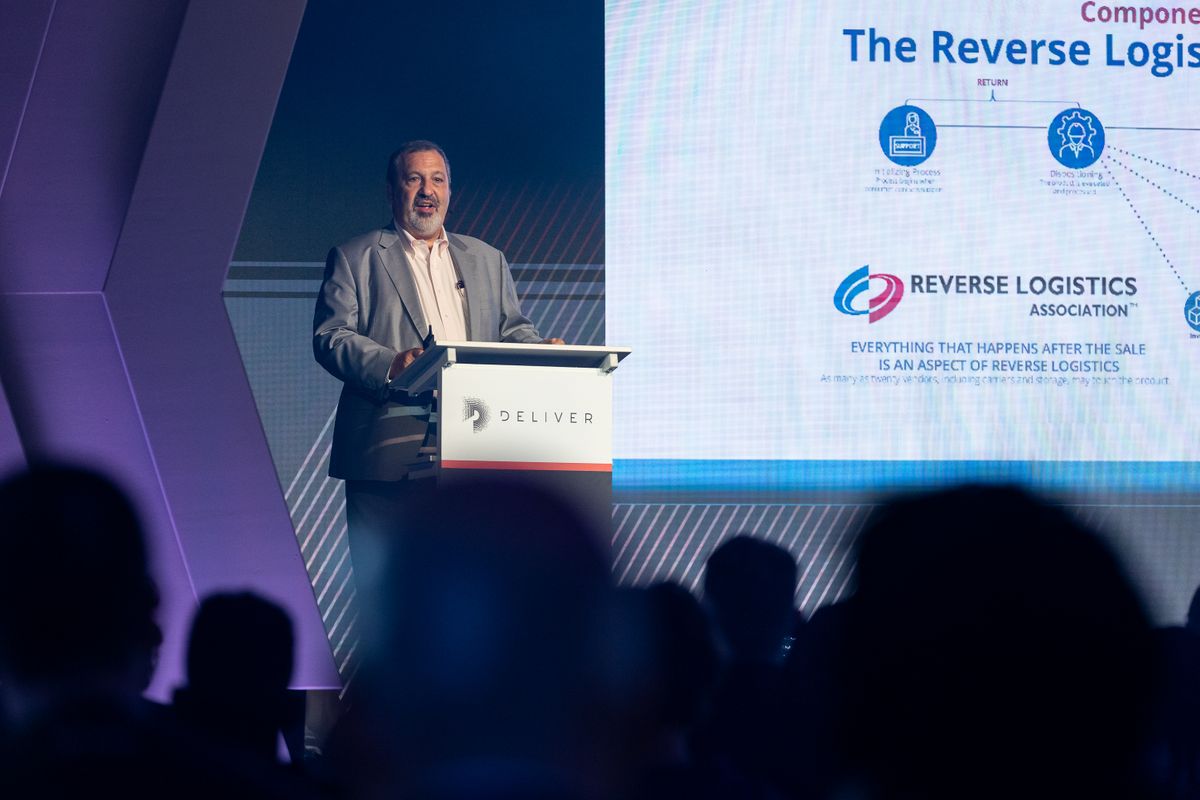 "You order a Kim Kardashian bikini for $300 online," imagined Tony Sciarrotta, Executive Director at the Reverse Logistics Association, in one of last month's most colourful DELIVER 2022 keynote presentations. "And you don't like it. You send it back. What happens to that stuff?"
How Customer Convenience is Fuelling the 'Returns Problem'
While not all of us will have splashed out on SKIMS swimwear in readiness for showing off our vacation bodies this summer, most of us can relate to that sinking feeling when our coveted e-commerce item disappoints: too big, too small, wrong colour… or just an embarrassing Friday night impulse buy that we regret in the cold light of Monday. Back in the box, print out the label, take it to the post office = problem solved. But Sciarrotta raises a question which has implications far beyond just looking good on our beach holidays. The 'returns problem' is, as he describes it, "the nightmare beyond all nightmares". What really does happen to that stuff?
Given that e-commerce returns now total in excess of 20%, compared to around 9% in 'brick and mortar' retail, the global trend towards making the e-commerce experience as convenient as possible has created a ballooning overflow of unwanted goods across several retail sectors. With a return rate of 25%, the apparel industry, bikinis and all, is under particularly intense scrutiny, as North Sails CEO Marisa Seifa warned in the opening keynote of DELIVER 2022: our need to look great on the beach may be jeopardising the very survival of the oceans in which we swim.
According to Sciarrotta, 33% of retailers have to raise costs to cover these returns, while these companies simultaneously seek a competitive advantage by making the returns process ever easier for the consumer: a kind of toxic codependency resulting in unsustainable economic and environmental waste. "All that stuff that was new that was sold to somebody: that represents failures," Sciarrotta said. "Somewhere, something went wrong for that customer. Unfortunately, we are exporting to you what we're failing at in the United States. It's a nightmare, because retailers see it as a returns mentality. You have to make it easy for the customer to return something, or they won't buy from you – because other people have made it easy for them."
Why the US Market is Failing at Returns
In the US market alone, the data is astonishing. In 2021, nearly 17% of all retail sales were returned, at a cost of $761 billion. If US returns were a country, Sciarrotta explained, it would place 18th in a global list of nations ranked by GDP. To put that in further perspective: the US spends $765 billion annually on public education.
When the pathway that leads to the return of goods is scrutinised – the failures in the purchasing process that turn desire into disappointment – we can begin to understand how this process can be made more sustainable*. In the apparel market, there are glaring pain points in the relationship between vendor and customer that appear to make returns almost inevitable:
'Bracketing', whereby the consumer buys numerous items and returns all except the one they really like;

Huge size variations across countries and brands;

The 'expectation issue' of a 3D item falling short of its 2D representation online; and

The cognitive dissonance we are all guilty of to some extent: swimwear that looks incredible on a gorgeous model is never going to look quite as good on us (though this tragic lesson seems particularly hard for many of us to learn).
Looking Forward to a Greener Supply Chain
As explored in a previous Deliver Insight on Dutch retail innovation, the future may bring some clever solutions to these problems. In the meantime, Sciarrotta exhorted the industry to embrace a shift in language and perspective that can change consumers' attitudes to novelty and usage. In this alternative, circular economy-driven retail landscape, 'second-hand' becomes 'pre-loved', garments and the constituent materials are forensically analysed for upcycling potential, and designer resale sites return luxury fashion items back into the retail ecosystem instead of landfill. Technological innovations such as RFID (radio frequency identification) tagging will allow retailers to more accurately trace a product's journey from warehouse to consumer, potentially ending logistical headaches such as overstocking and overproduction.
With e-waste estimated to reach 75 million metric tonnes by 2030, Sciarrotta said the time is now for taking drastic steps that will both foster brand affinity and help avoid environmental catastrophe. "I'm here showing you the dark side because it all makes a difference," he said. "It makes a major difference. The major difference is that we now have to think circular. We now have to think about not just sustainability, but being circular completely." There are reasons to be hopeful: Europe now leads the world in regulation measures; the French Repairability Index, in law since 2021, aims to "encourage consumers to choose more repairable products, and manufacturers to improve the repairability of their products"; and 'right to repair' legislation was introduced in the US in February of this year.
The sustainability blueprint is already in place – it just needs companies to be brave and innovative enough to ensure its implementation. "Remember, one out of every four packages going out in e-commerce is coming back," said Sciarrotta. "Anything you can do to stop it can make you a hero at your company. And, more importantly, make a difference to the planet."
*The e-commerce and logistics industry's responsibility to the environment is one of the pillar topics for DELIVER 2022 previewed in our recent
Insights Report
.