CONNECT Global Early Insight - the 2023 Supply Chain Trends You Need to Know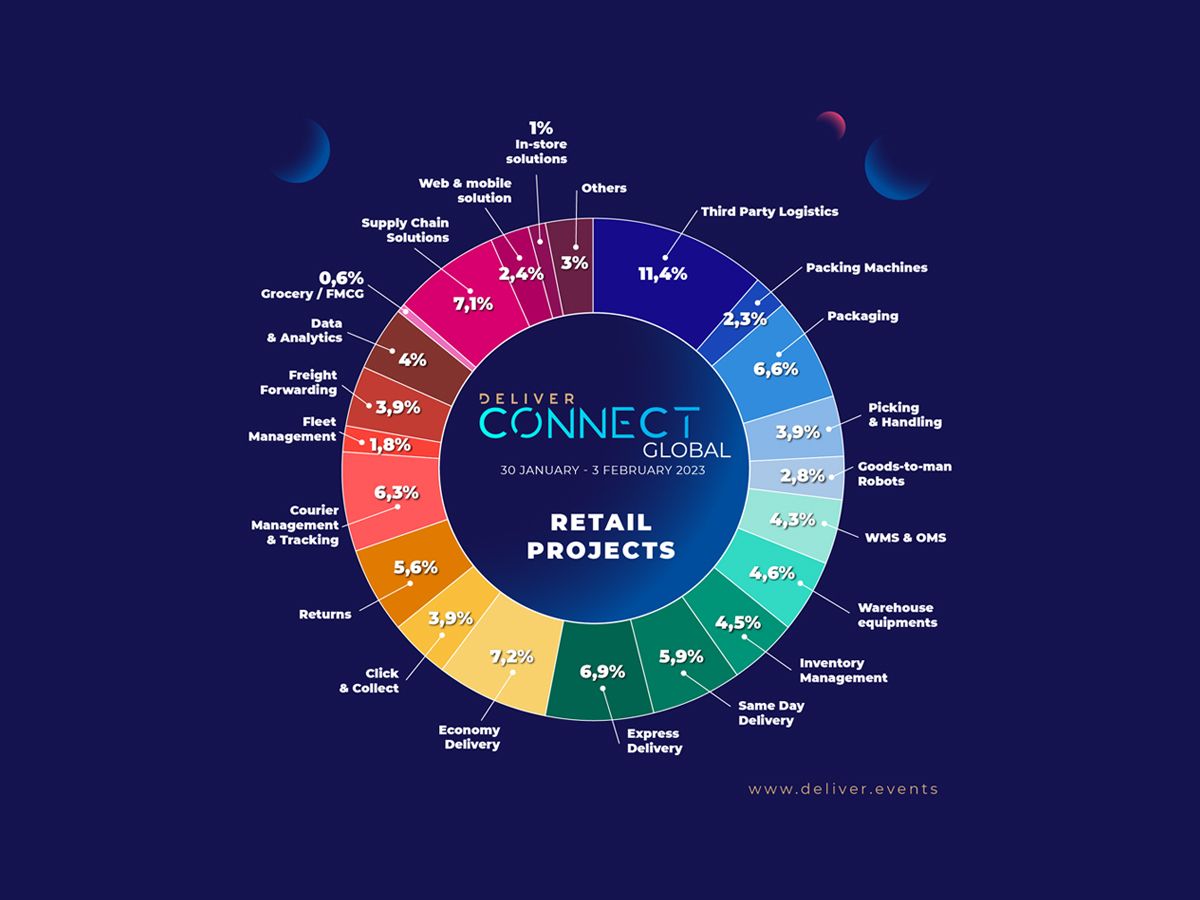 We're entering a new year - and we're more than ready for all the challenges it has in store (and online). At CONNECT Global (30 Jan to 3 Feb), we're kicking off 2023 with the opportunity to power your Q1 pipeline through the deals and thought leadership you'll need to get ahead of a bustling calendar.
In addition to securing premium pre-qualified 1-2-1 meetings with over 500 major retailers, CONNECT attendees will have the chance to connect with thought leadership from across the international retail, e-commerce and supply chain industries. And since everyone attending has their own specific budgets, projects and needs, we decided to start the global conversation by taking a look at the 2023 trends that will shape these Q1 decisions and influence strategic positioning deep into the new year.
Powering the Projects
The retailers attending CONNECT Global represent every sector, from Furniture & Electronics to Pharmaceutical. We took a deep dive into the data these retailers provided, to analyse where their logistics needs lie - and across what kind of projects. Here are some of our findings:
Supply chain project needs are as many and varied as the spectrum of attending retailers. We identified 22 different supply chain requirements, with everything from Packaging to Returns; Inventory Management to Courier Tracking; and Data Analytics to Robotics all pinpointed as important project differentiators

Over 11% of retailers are looking for Third-party Logistics solutions

Same Day, Express and Economy Delivery remain key requirements, at a combined 20% of retailers' anticipated project provision
The Trends That Matter
Given the wide variety and bespoke nature of individual supply chain projects, what are the 2023 trends that need to be front and centre in your Q1 strategy as you look to navigate the forces that will define the coming months?
Returns Will Return
2022 will live in infamy as the year with the biggest fall in household incomes in living memory. With inflation unlikely to begin dropping significantly until the second half of 2023, consumers will be focusing their incomes on non-negotiable needs such as groceries and energy bills, and will be less willing to forgive quality issues in the non-essentials they do purchase. Products falling short of this raised benchmark of value will be boomeranging right back to the retailer. Returns (and refunds) will subsequently need to be more efficient - and more rapid.
Minimised Mileage
The goal of decentralised fulfilment continues to inspire e-commerce strategy across the world, as companies now know they need to be flexible and fleet-footed to be able to respond to ongoing and unforeseen supply chain disruptions. Greater flexibility need not mean greater cost, however: optimised route-planning, managed via real-time data solutions, will allow logistics providers the ability to offer the ever-changing menu of delivery choices e-commerce businesses will increasingly demand.
Watching the Warehouses
The need for bonded warehousing will continue to rise in tandem with the supply chain interruptions expected to continue for years to come, as military conflict, the climate crisis, new waves of the coronavirus, and materials shortages all put further pressure on order fulfilment. Warehouse outsourcing will also become an increasingly attractive option for retailers looking to offset lowered consumer demand and the price reductions that will be needed to entice customers back to the marketplace. Expect to see firms making further long-term investments in time and energy-saving technologies that will maximise their warehouse space and make it a more attractive proposition to retailers looking to trim fat from their balance sheets.
Scoping the Competition
Rising energy costs will force businesses to streamline their global footprint regardless, but most will already be responding to growing consumer demand for transparency and accountability. Scope 3 emissions control will move to the centre of corporate ESG strategy as companies seek to align themselves with increasingly robust legislation. The banking industry and private equity investors will be basing a greater number of their investment decisions on sustainability reassurances, and ensuring that their capital is safe with companies that stay true to their green credentials.
Connecting With the Ideas That Count
These are just some of the insights we'll be discussing at CONNECT Global 2023, as we examine the trends, challenges and solutions leading us into an exciting new year. We'll continue to explore these ideas in the lead-up to the event, and beyond, so keep connecting - there's lots more to come.